10 janvier 2014
5
10
/

01
/

janvier
/

2014
22:55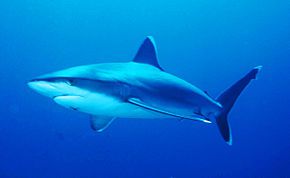 The silvertip shark is a fish
which is found in coral seas and oceans
especially in the Atlantic. He lives in depth
ranging up to 800 meters. It can be recognized by its
fins, where the end is white, and blue tint on
its back. It can measure up to 3 meters for 170 pounds.
this shark, also known as shark Houareau, feeds on fish
banthiques (fish that live in high depth). It is a rare shark
and poorly known by humans because it is easy to confuse
it with another shark species. Only three non-fatal attacks
were recordedsince 1580
.